print/quotes
Bob Segarini dissects "Pop Goes The Weasel". Read his entire article here.

Click the thumbnail to view an annotated bibliography by Leonard Nevarez, published on September 24, 2014.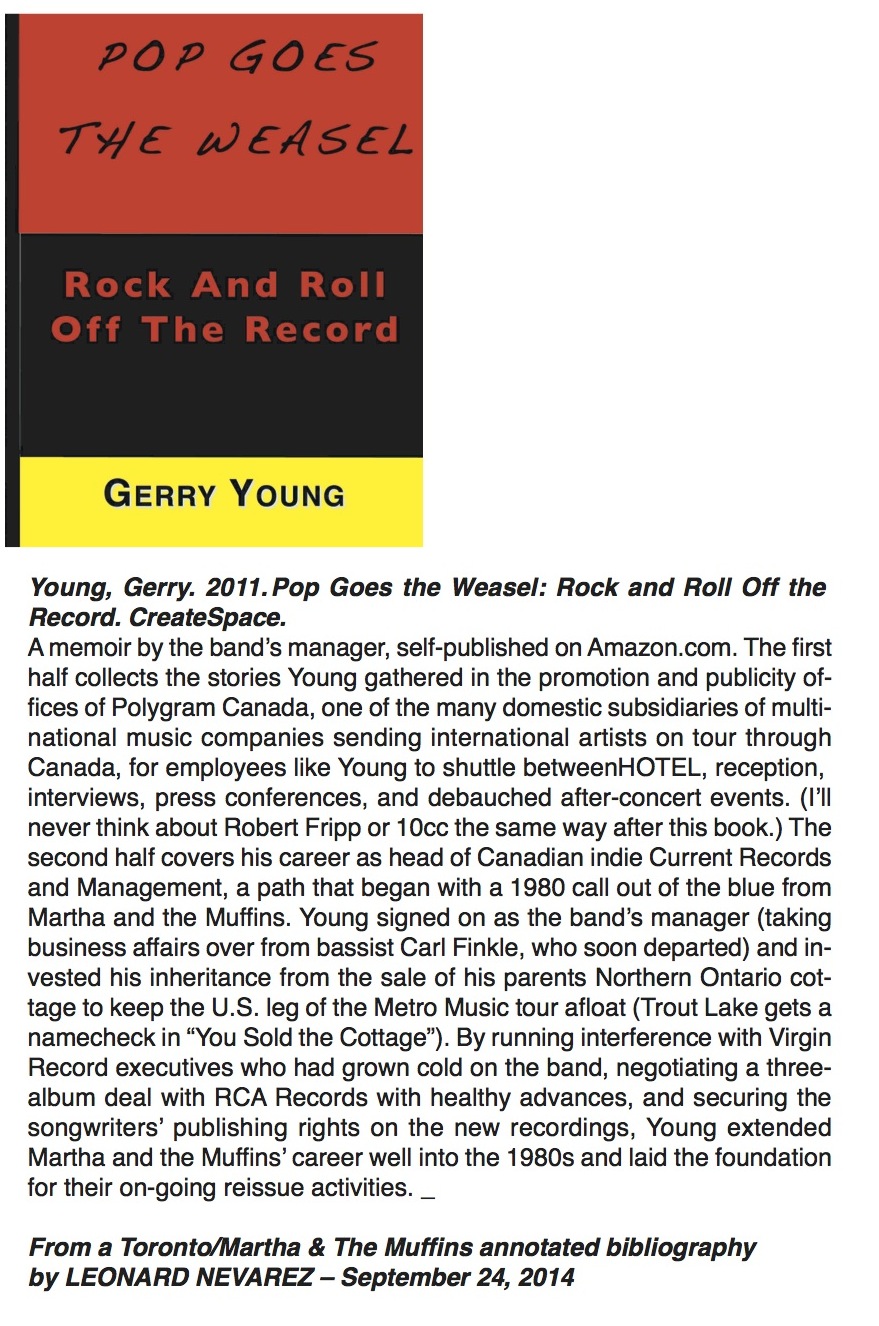 "As a crit', I was required to read hundreds of rock bios and music industry door-stoppers. I've never, though, read a book as entertaining and anecdote-juiced as Gerry Young's 'Pop Goes The Weasel,' a tell-all history of his time as a young concert promoter in Montreal (The Kinks, Johnny Winter), or his later role as a p.r. and marketing nabob for PolyGram. Anyone interested in rock and its closed-door, X-rated machinations should order this book right now, on Amazon." -- Craig Macinnis, former Toronto Star Entertainment writer, July, 2014
&nbsp
The spring 2013 edition of SOCAN's Words and Music magazine featured an article on "Pop Goes the Weasel". Click the thumbnail to view it in full.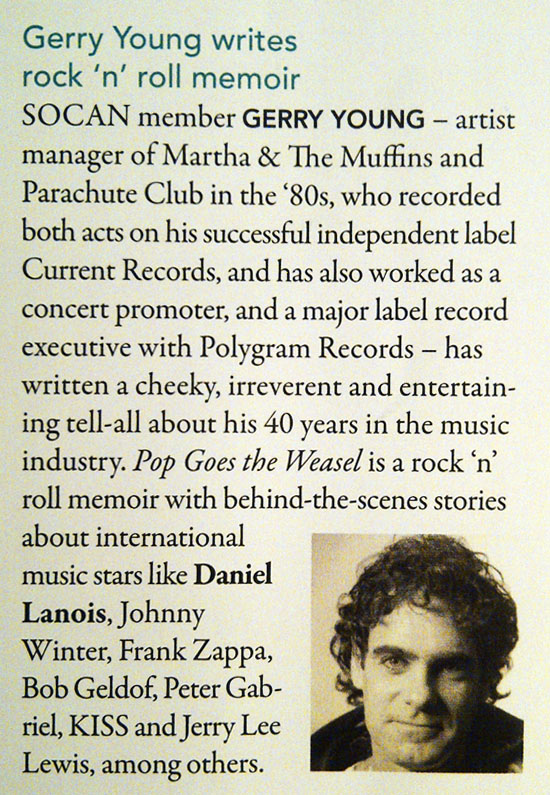 &nbsp
Peter Simpson (AKA The Big Beat) from The Ottawa Citizen has written a great review about Pop Goes The Weasel. Check it out here.
&nbsp
Roch Parisien of Rocon Communications conducted an online interview with Gerry. Click here to read it in its entirety.
&nbsp
"Pop Goes The Weasel: Rock And Roll Off The Record" is a great read with a ton of fun insider stories from the author's many years in the music business. I suggest that everyone with an interest in the history of Canadian pop music read this book." -- Mark Rheaume, CBC Radio
&nbsp
"Gerry's history dealing with Martha And The Muffins, The Parachute Club and other Canadian bands gives him a unique perspective on what it's like working within our music industry. If you're at all interested in what goes on behind the scenes in this country, read this." -- Alan Cross, host of the nationally syndicated radio program "The Secret History of Rock"
&nbsp
"Gerry Young has released his autobiography "Pop Goes The Weasel-Rock And Roll Off The Record." This is a fascinating, entertaining look inside the record business -- artists, labels, managers, promoters -- both in Canada, the USA, the UK, and Europe. Written in true Gerry style, it is sans bullshit and he tells it like it is/was. As you can tell here I highly recommend this title; you will not regret it!!" -- world famous Rock Photographer Philip Kamin, July 10, 2012
&nbsp
"Gerry Young has had great success with both Martha & The Muffins, and The Parachute Club, and has been an industry insider since the 70s. His book offers a candid glimpse inside both the Canadian Music Industry andthe Toronto music scene during this time, as well as illuminating vignettes involving many Canadian, American and International musicians and recording/performing artists. It never slows down to anything slower than sprint, and reveals the author to be genuine, and honest. Highly recommended." -- David Henman, co-founder of April Wine, and member of the Canadian Music Hall of Fame.
&nbsp
"Artist manager/record label head GERRY YOUNG has been a popular fixture on the Toronto music scene for three decades. He is best known for spearheading the careers of the internationally successful MARTHA AND THE MUFFINS and PARACHUTE CLUB, and as head of Current Records. He has just released a biography, the very amusingly entitled Pop Goes The Weasel: Rock And Roll Off The Record ("weasel" is a slang term for a record industry guy). The book is just as entertaining, and it concentrates on anecdotes from inside the business, rather than attempting to provide an overview of the period. As an executive at PolyGram Records back in the day when the major labels had way more money than sense, Young has plenty of stories to tell. Highlights include tales of early encounters with the likes of FRANCOIS TRUFFAUT, JERRY LEE LEWIS, BOB GELDOF and THE KINKS. A very easy read, this will appeal to those interested in the inner workings (and excesses) of the music business. The book is available from Amazon.com and other retailers." -- Kerry Doole, "On The Beat" -- Tandem Magazine, June, 2012
&nbsp
Gerry Young, has written a book about his days as Promotion Manager with Polygram Records and working with such stars as The Bee Gees, Donna Summer, The Kinks, and even Sir Richard Branson and many more. Pop Goes The Weasel - Rock And Roll Off The Record, is a fun and fast-paced read. You'll get a glimpse of many groups and singers that most people never get to see. In some cases, that might not be such a bad idea. Check out Gerry's book at Amazon.com" -- Michael Godin, Host/Producer of Treasure Island Oldies Internet Radio program and the man who signed and developed mega-star Bryan Adams at A&M Records Canada while he was VP of A&R at the label, June, 2012
&nbsp
Click here to read a new in-depth review by Music Director Rob Pinnock of 105.3FM The Fox in Fredericton NB, July 17, 2012.
&nbsp
www.musesmuse.com Gerry Young is a man with many hats in the music industry, and with lots of stories to tell. His career has taken him from being a concert promoter, to a record label exec, to managing bands. His book "Pop Goes the Weasel: Rock and Roll Off the Record" is a collection of his memoirs, and it's a fun tell-all, no-holds-barred recount of his journey. -- Anastasia Karalekas, musesmuse.com Reviewer
&nbsp
Click here for Jaimie Vernon's writeup on - November DISCoveries.
&nbsp


Read a review on the book from the January 2012 issue of Active Magazine, by Katherine Moore, Editor
&nbsp
----------|----------|----------|----------|----------
Back to Top